This wasn't today, but it got quite hot during the day...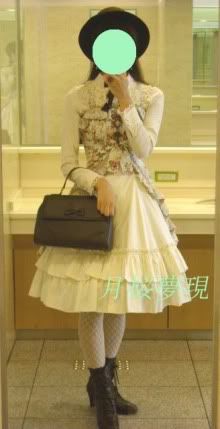 - Victorian Maiden Rose Lace Roccoco Dress (roccoco mint)
- Mary Magdalene Lisbeth Tulle Lace Blouse (kinari)
- Victorian Maiden Elegant Ribbon Hat (brown)
- AP Clara Short Boots (brown)
- Innocent World Big Heart Scallop Bag? (chocolat)
I really like the combination of roccoco mint and black, so when I decided to wear it with brown instead it felt really weird. (haha)
I wanted to increase the amount of brown so I put on the short boots, and later noticed I maybe should have worn brown tights as well? But alas, it was to late, haha...
It's not visible because of the hat, but I pulled one side of my hair back with a barette from Schwarz Schmetterling.
However, somehow hats with brims, well... don't suit me at all... But I still came to like them lately.
But enough babble.
I appear to have cought a cold.
First it was just my throat, then my bronchial tube started hurting so I thought I'd start coughing, but I didn't, but started sneezing and my throat keeps hurting... *cries*
It's gotten cold lately, so please take care everyone.