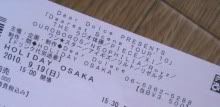 I'm messing up the chronological order a little, haha...
But I heard that on the 19th a band that was recommended to me by a friend before would come to Osaka, so I went to the concert.
And it wasn't just a oneman show of that band, so it was great fun!
I also enjoyed watching the other bands, and there was one that I liked and would like to get the CD of.
But I can't wait until then, so I'm watching their videos. (haha)
I know it's obvious, but getting the CD and listening to it on your commute is sure different from a concert.
Concerts are so much better!
I want to go to a lot of concerts... but in reality, I can't go to that many.
However, even though I can't imagine a life without music anymore, 2 or 3 years ago I actually didn't listen to music at all.
...now I can't understand at all how I could live like that, haha...
Because there is music I like that much, I can live a happy life now.
And therefore I thank those musicians from the bottom of my heart!