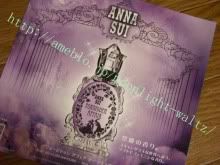 I got this new catalog at the Anna Sui shop.
This is it, the perfume I came to like.
I got to try it, and really loved the smell! It smells great.
The smell of a perfum is important, but I also enjoy the bottles.
And the bottle of this new product is really cute </3
The name is important, too.
It's called "Prohibition", so it somehow catches your interest and rises attraction.
I have plenty of perfumes so I refrained from buying it for now... but I keep thinking about it....