I worte an entry yesterday but then accidentally deleted it right after I finished, so I went to bed annoyed and am now rewriting it...
I went to the wedding of a friend the other day.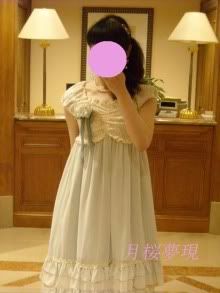 There was no full length mirorr, so I have no legs (haha)
I wore Victorian Maidens... Lace chiffon doll dress, right? And, the colour is... powder aqua? Right?
To add some fluff I wore I wore my volume chiffon petticoat skirt(kinari) which also added a little length.
I can't remeber the dress's name... Lately, my memory is absolutely useless for everything except work.
It might be time for some Brain Training again? (haha)
But at work I memorize things to a point where I know stuff that I don't really have to...
Today we were blessed with nice weather, so it was a great wedding!
My friend's dress had a really beautiful shape, I also met the groom for the first time and he seemed like a really nice person.
It's great that she found happiness with a nice person!! Stay happy forever!!
The hotel we celebrated in was really beautiful, I tool pictures of the inside and the food, I'll sort them out and post them on the weekend!
...unfortunately taking pictures was prohibited during the ceremony, so I didn't take any pictures of the chapel...
Ahh, and the bouquet was a "Bouquet Pulls" (where everyone pulls a ribbon from the bouquet, the one who gets the last one is considered lucky)!
It was made of four parts, and one of them was held together by the ribbon I pulled!
...I have great luck with these kinds of things lately (haha)
This year it seems like something good is going to happen♪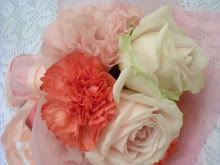 ...the picture of me holding the bouquet is on my friend's camera...