I've finally been able to wear Lolita again. It was great!
Though I needed two days to decide what I wanted to wear, haha... my fashion sense is going downhill...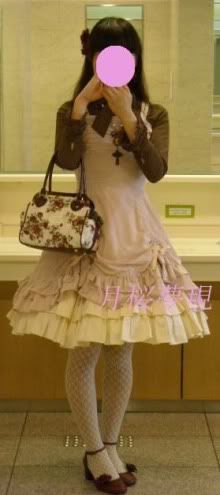 I've worn Victorian Maiden's Fairy Doll dress(that's what it's called, right??) in rose again after a long time.
It's lighter than I remebered it to be(now that I look at it...).
The blouse is Mary Magdalene's Emanuelle blouse(chocolat), the corsage is Victorian Maiden's Fairy Rose corsage(bordeaux), the shoes are Innocent World's rose corsage sandals(bordeaux).
The bag is a L'est Rose bag with a rose print.
Today I went shopping after a long time. Actually I've been going out lots, but didn't go into any shops...
I even spent most of Golden Week indoors.
My plans were different, but all the stores were decked in summery colours(obviously) that were really cute, so I bought some beautiful light coloured clothes!
Namely beige, pink and mint coloured tops. I can only wear plain black or brown skirts to work, so I plan wearing them with those.