I've probably written this somewhere before, but I wanted to try the "skirt + corset or bustier" combination for a while now, and kept saying I'd like a corset or bustier, but didn't have one for quite a while...
But, lately a corset vest has come out that I really liked, so I went ahead and bought it.
This is a picture of me wearing it out happily. Pointless rasing of tension.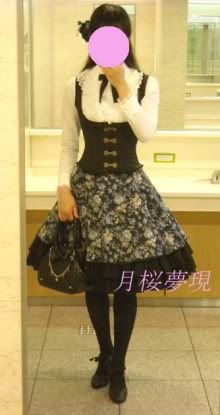 I really liked the shape of my skirt that day, if I may say so myself.
It was a beautiful triangle shape! I was thrilled о(ж>▽<)y ☆
The skirt is Victorian Maiden's Antique Rose skirt(winter blue x black), the blouse is Mary Magdalene's Lisbeth Tulle Lace blouse(off white), the vest is EXCENTRIQUE's Queen's corset vest(black), the shoes Victorian Maiden'n Victorian Ribbon Pumps(black), the bag is from L'est Rose.
...I don't really know how to do my hair with this kind's of outfits...so I just left it down and put a navy coloured rose corsage in the back. Maybe a black mini hat would have looked good.
I thought, "This skirt would look cute with an off white blouse and a black bolero or corset!", but it looks cute either way. As one would expect. Thanks to everyone who encouraged me to wear it!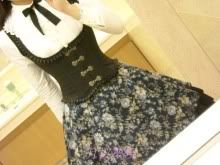 I really loved this vest! As expected from EXCENTRIQUE. It gives such a beautiful shape.
Corset vests are awesome!
The clasps at the front are antique gold, they give the vest a classical and antique feel!
The back is completely laced so you can adjust it however you want.
I reaaallyy like this vest, and also want to wear the skirt more often.
A girl I meet every day also liked it a lot, she said "It's nice if you dress like this!"
Thank you.
...but, wearing so much navy, somehow I could of felt like "This is so unlike me..." (haha)
That's all, have another pointless picture.